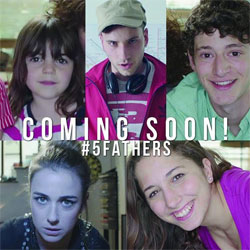 SYNOPSIS:
Five fathers is the story of Malika, who had five children from five different fathers. All of them are living in different parts of the world or different parts of Italy.  In a month Erika grandmother will turn to 70 years old, and the aim is to bring together everyone in her house which was the house of one of the last hippy community.  All of the dynamics and family relationship are told through skype calls lasting up to 5 minutes.
---
SUBJECT:
Malika is 42 years old and still going strong despite her stormy life and her 5 children from 5 different fathers.
Malika is the daughter of the last hippie generation of 60s. She grew up in a community with a spiritual/new age atmosphere, where every child born into the world is a matter of course and is a new member of the community who cares.
All Malika children are in contact with their fathers through skype around the world. The Malika mother's name is Erika. She's a little dippy but sometimes she could share pearls of wisdom .
Erika still live in the house that once belonged to the commune, she has become the only heiress of the surrounding estate. They all love her.
In a month she will turn 70 years old and she is already throwing a big party where will have to participate all family members, including Malika's ex boyfriends which have always maintained a good relationship with Erika.
Erika is a widow and now lives with an American man a little bit younger than her. His name is Michael and he's a motivational coach. They boast of still having an very active sexual life.
Malika had her first daughter when she was 17, by her first love Alessandro. They knew each other since they were 3 years old. Although right now he lives in china with Si-Si, a petite Chinese woman who helps him in import-export business, still have good relationship with Malika.
Fiore is the name of the daughter of Malika and Alessandro. Now she's 28, lives in New York and she's a photographer. Malika and Fiore are like best friends. They always update each other through skype. Fiore has a good relationship also with her father, even if they don't speak frequently because of the time zone.
Libero is 24 years old. He is the second son of Malika and Alberto. They met each other at the university when Malika was studying Political Science and Alberto was studying Psychology. They thought they could together change the world, but
Alberto never finished the university and still lives in poverty, smoking marijuana all day, and sharing the house with other people.
Libero, instead, has become a famous DJ, he lives in London and even though he leads a nocturnal and wacky life, he makes good money which is why his father always wants to keep in touch with him, and trying to emotionally manipulate Libero as he already did in the past. But now the only aim is to ask him money. Their debates are always very heated.
Despite two children Malika was able to get the university done and start to collaborate in a NPO.
At the beginning the work was not well paid, in fact, she could hardly support the house expenses. For this reason, when she met Luigi, a 50 year old man, wealthy Tuscan, producer of fine wines, still good-looking, she failed to resist temptation and she believed that he could be the right man for her. After less than one year of relationship he asked her to marry him and have a baby otherwise he would be too old to have one. Although strong resistance, at the end Malika agreed because she felt protected by an older man.
So at 27 years old Malika had another child. Desiree (18 years). After less than two years Luigi ran off with a girl of 24 years old. Now he lives in Tuscany on his estate, meanwhile different women come and go. Luigi always provides for his daughter everything and for filling the void left by his absence, he buy all the time a lot of presents for her.
Now Desiree is 18, hardly seems to be Malika's daughter. She wears brand clothes and she's in persistent conflict with her mother.
Malika tries almost an atavistic resentment toward Luigi, and their online meeting always end fighting.
Desiree plays the role of a loving daughter so in every chat gets what she wants. Pietro (40years), one of the NPO managers, was the one who was closer after Malika broke up with Luigi.
Pietro was a real friend but deeply in love with her. He is a loving man, who took over all the failure of Malika, and took care of her and her children.
After one year friendship Malika accepted him as a man next to her. Their relationship lasted three years (probably the longest relationship she ever had) , during these three years they had Filippo. At that time Malika was 31. The relationship between Pietro and Malika it always went well, until the NPO they worked for, has ranged a project in Africa. Pietro followed the project enough to have a mystic crisis that led him to be a missionary over there, where he still lives.
Filippo recently has turned 14, he just finished the middle school and he has no idea what he'd like to do when he grows up or even imagine which study take. Find his father frequently and listens to him like a spiritual guide but each time, from their online dating, he always comes out more confused.
After Filippo, Malika has really decided to stop with relationships. She has a good gay friend from Spain since she was a little girl, a real friend to talk, that often becomes the shoulder to cry on. His name is Julio (43 years), he has a partner for a long time, but often get into a crisis. He is responsible for public relations and event creation. He can always to lighten Malika's bad mood with his gossip stories.
Up to 38 years Malika raised her kids by teaching them to help each other and to all work together and she put definitely aside the desire to find a man.
Then she met Max during one of the seminars for new blood that sometimes holds for the NPO. Max was very young (23 years old when they met) and handsome.
Malika at the beginning had not even considered him considering the age, but he did everything he could to impress her, and he eventually succeeded. Malika has completely lost her head for him. Love, passion and involvement have been the common denominator. She is gone beyond the taboo of the age indulging in this new adventure that made her feel alive again, beautiful and happy. After 1 year and a half she got pregnant and still deeply in love, although frightened, decided to keep the baby, Bianca who is now 4 years old. Max has made efforts to be an adult and to actually achieve anything quickly but he couldn't take the stress and came in competition with Malika on work becoming even aggressive. After a year, despite the great love especially another baby exasperated she has been forced to kick him out of the house. Max left the NPO and is back living in Bari.
Max loves Bianca and always tried to keep in touch with her. Malika after suffered so much for the end of this relationship, now she is recovered and try not to hinderthe relationship between father and daughter.
---
STYLE:
The tone are those of comedy.
The protagonists meetings are exclusively via Skype, where live their mutual dynamics.Each episode is a Skype meeting which sometimes can overlap with another call and may include in the main scene situations and cohabitants who live behind those at the video.
TARGET: From 15 to 70 years