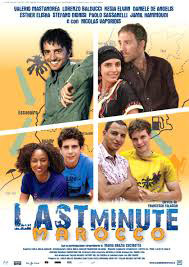 gender: comedy
year: 2007
direction: Francesco Falaschi
cast: Valerio Mastandrea , Maria Grazia Cucinotta, Vaporidis.
The seventeen year old Valerio decides to leave for Morocco without the knowledge of separated parents, the oppressive Valeria, owner of a travel agency, and the bioarchitetto Sergio. When the mother finds out from a friend that the young man did not go in the mountains but in Africa, forcing the ex-husband to go find it. Valerio comes to Morocco by ferry, accompanied from extravert Andrea and Giacomo shy. Traveling they met their friend, Samir, who returns from his father with his aunt and uncle and cousin, Jasmina, which Valerio immediately falls in love. As soon as the parents of the young man reveal that they have promised to another man, desperate accepts Valerio help to escape, and partly to reach the grandmother. Meanwhile Sergio is he in Morocco, and while also came in search of information to find Valerio, is stolen the car from a man who had cheated another woman, Tamu: she being the place, Sergio asks to accompany him. Together they depart for Marrakech . Even if left alone by the two friends, Valerio fails to declare to Jasmina, and also discovers she is already in love with another man. Her family then able to reach them, and the father ends up resign. Li also found Sergio, who is at odds with the former "betrothed" Jasmina: it was the thief of his car. Ended up in hospital, Sergio then recovers and seems to have found new dialogue with the child. Valerio returns home with friends, and Sergio starts with the car, only to park it to get on the bus where Tamu.
---