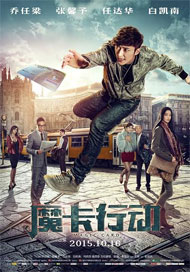 gender:
 comedy.
year:
2015.
country:
 China.
direction:
Kwok-Man Keung.
cast:
RenLiang Qiao, Zhang Xinyu, Simon Yam, Kainan Bai.
companies:
Shanghai Yingku Digital Film Cinema Shanghai Huayu Media.
distribuited by:
Shanghai Huayu Media, Qili (Shanghai) Media.
Gifted Chinese agent Li Dazhi (Kimi Qiao) heads to Italy to get to the root of a corruption scandal that threatens to escalate out of all control, whilst making sure to keep a close eye on old childhood sweetheart Meng Xiaoling (Dada Chan). Meng is courted by the monied Du Haojin (Bai Kainan), who will stop at nothing to buy her love. His latest extravagant gift is the purchase of an old street in ancient Pavia, much to the indignation of its locals. However, when Meng is duped by a criminal gang into wresting the area from her wealthy suitor's grasp, violence quickly ensues.
Millionaire Li Zhenghua (Simon Yam), is brought in by Interpol to track down and entice the criminals through his sponsorship of the local football team, while his daughter Li Feifei (Vivian Zhang) – determined as ever to prove herself to her father – takes on the dangerous role working undercover as Du's interpreter. Her investigations soon uncover unexpected skeletons in the family closet, in the form of her father's affair with Italian beauty Maria (Maria Grazia Cucinotta). Yet it isn't long before a more immediate threat heads her way, and Li Dazhi must act fast to intervene…
Wealth, greed, violence, old family secrets, Interpol agents, and football fanaticism combine as temperatures rise, and all parties discover just how brutal business on the mean old streets south of Milan. Will Li Dazhi choose the courageous Li Feifei or love of his life Meng? And just who has the winning card up their sleeve, as they seek to escape Italy with their lives?
---