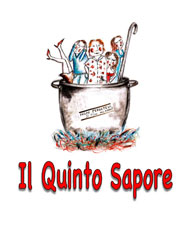 SYNOPSIS:
Imagine being thirty years old, living with your parents and hoping to change the world with your degree in agronomy. Imagine working at your girlfriend's restaurant, she's the most beautiful woman in the world and you'll be marrying her in a couple of weeks.
Now, imagine deciding to overturn your life, seeking the heady thrill of complete self-sufficiency, only to end up living in the house of a cook with an obsession for cooking, who one fine day introduces you to "Umami".
Umami – The Fifth Taste.
Because, he explains, the tastes aren't 4, but 5. You know the sweetness of the honey that mama has been adding to your milk every day for the last thirty years? The sourness when at the University they told you to give up hope? And can you remember the bitterness of the bills to pay for the new house you'll be building with your fiancée? And the saltiness of when you find out that your future in-laws want you to take over the nmanagement of their restaurant? Well, there is also the taste of Umami…
The savor of when your life is about to change forever…
---
DIRECTOR'S NOTE:
The Fifth Taste is an amusing story about love and friendship, spiced by difficult choices of the kind that can change ones life forever. The crisscrossed destinies of 5 characters (+1) will learn what happens when friendship gives way to love and how passion, like life itself, hides many surprises…
The weave of stories and lives, of enchanting characters and improbable circumstances, spiced with dry, quasi-English humor, bestows a delightful and precious originality to the film. Easily avoiding the dead-end stereotype of mere humorous effect and capable of taking on and tackling difficult themes, though always remaining airy and aloft, this comedy has a character all its own and in our opinion is a project which inspires love at first sight.
The story thrills and moves and raises thoughtful smiles. The happy ending leaves one hopeful, but with a bizarre, yet strangely familiar lingering aftertaste, in other words, with an Umami!
An engaging Italian comedy that can reach and delight all audiences, even those of the most demanding palate.