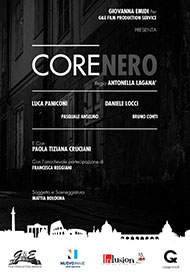 Directed by Antonella Laganà
cast Paola Tiziana Cruciani, Francesca Reggiani, Luca Paniconi, Daniele Locci, Pasquale Anselmo, Bruno Conti
Produced by Giovanna Emidi and G & E Film Production
SYNOPSIS
Freely adapted from the Roman folk tale: Er Fattaccio der Vicolo der Moro
Produced by G&E Film Production Service srl
NEW IMAIE http://www.nuovoimaie.it
Distributed by PREMIERE Film Distribution
Premiere film is a film distribution and production company with offices in Italy and France: it deals with distribution of short films and web series. https://premierefilm.it
Vicolo del Moro, in Rome, lives a widow, Sora Emma, with her two sons, Nino and Gigi. Nino, the eldest, is a carter; Gigi is a watchmaker apprentice in Sor Venanzio's workshop. They are very different in character: of the two, Nino is much more fond of work and more attached to his mother than his younger brother. However, things proceed normally and family life takes place quietly until the day, when Gigi, encountered some trasteverini hooligans, begins to suffer the influence. He becomes listless, forgets the house and his girlfriend, he loses his time at the cafe. Having met Lulù, a singer, he becomes his lover and, for her, first he commits a theft in Sor Venanzio's shop, then, to compensate him, he robs his mother. This one, who tried in vain to keep him on the dangerous slope, cries and suffers in silence. When Lulù – who brought Gigi into the band of "Lemme-Lemme", a criminal, his protector – has him put in the door by him, the misguided young man loses his head completely. One evening, Nino, who surprised his brother to abuse his old mother, reproaches him. Gigi confronts him with a knife in his hand and wounds him. At that sight, the mother suddenly dies: Nino, grabbing his brother's right hand, forces him to hit himself, killing himself; then it goes to constitute it self.
Festival Cinema Roma
ROME LAZIO FILM COMMISSION 2018 – Auditoriumarte
Rome Film Festival, Parco della Musica.