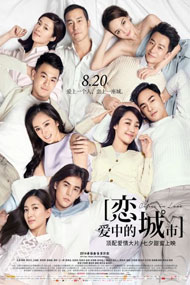 gender:
 comedy
year:
2015
country:
 China
direction:
Muye Wen, Runnian Dong, Yi Han, Fu Tien-yu, Jiatong Yi
cast:
Yang mi, Kai-Yuan Zheng, Jiang Shuying, Meng Li, Hyun-Jae Lee, Sandrine Pinna, Xuan Huang, Jiang Yiyan, Joseph Chang, Bai Baihe, Ethan Juan.
The present day. I: Prague. Arriving off the train, Chinese tourist Zitong (Yang Mi) has her bag snatched but catches up with one of the perpetrators, young Taiwan petty criminal Peter (Zheng Kaiyuan), and forces him to help her find it. They end up searching a rubbish tip outside the city, but finally Peter retrieves it from a Czech petty criminal. Zitong stays over at Peter's flat that night and next morning reveals her reason for visiting Prague.
II: Shanghai. Jiang Xiaobei (Jiang Shuying) has opened a small gourmet restaurant called C'Est La Vie but has no customers. A friend advises her to spin a story to give the place a special appeal, so Jiang Xiaobei invents a fictional Frenchman, "Monsieur François", as her chief chef. When a TV cooking programme decides to cover the place, she's saved by the appearance of a young actor (Yi Hyeon-jae), who offers to play the role of François.
III: Paris. Depressed after being cheated on by his French girfriend, physics lecturer Liu Chang (Huang Xuan), 29, is picked up in the street one night by a mysterious French-Chinese woman, Vanessa Zhang (Zhang Rongrong), who kisses him, takes him breaking into a shop, and then offers to tattoo his back.
IV: Hokkaido. Xiaojiang (Jiang Yiyan) and her Taiwan husband Quan (Zhang Xiaoquan) are honeymooning in an idyllic, snowy spot she's always dreamed of visiting. However, her immaculately planned trip is thrown into chaos by a call from Quan's boss, who asks him to bring back a special type of dried fish. To Xiaojiang's annoyance, they set out on a long journey to find the place.
V: Italy. Arriving by plane in Florence, Yanran (Bai Baihe) is finally met by her "guide", a young Taiwan man called Xiaomai (Ruan Jingtian) who drives a rickety delivery van, ignores her complaints, and takes her to a remote countryside hostelry. She then announces she's come to "purchase a man" – to accompany her to her ex-boyfriend's wedding the next day.
---